Help Wild Birds is located in Roanoke, Virginia and is the exclusive birds-only rehabilitator in the Roanoke Valley.
The organization's purpose is to:
Rescue and provide care for injured, orphaned, and/or displaced wild birds.
Educate our community about wild birds and provide guidance for a better co-existence through workshops and programs.
Protect wild birds by disseminating information to public groups and individuals about the importance of saving wild birds and conserving their habitat.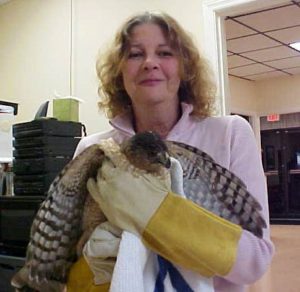 Maureen Eiger
Maureen Eiger is the Director of Help Wild Birds, Roanoke's only nonprofit wildlife rehabilitation organization that exclusively handles migratory birds. She receives hundreds of bird calls a year from people all over the country asking for advice to help solve their "bird problems" or answer bird-related questions. She is a State and Federally Permitted Bird Rehabber and contributing writer to the North American Bluebird Society Journal, The Roanoke Star newspaper, various Audubon and bird club newsletters, and the blog 10,000 Birds. Maureen is an avid birder and previous Vice President of the Roanoke Valley Bird Club and longtime RVBC Board Member.